Kröller-Müller Museum
We went to the Kröller-Müller Museum. (At the entrance of the park, the visiting friend bought a map for me.) We first went into the Van Gogh wing and later walked through the sculpture garden. The works I found worth mentioning are: My result of taking the free personality test from The SAPA Project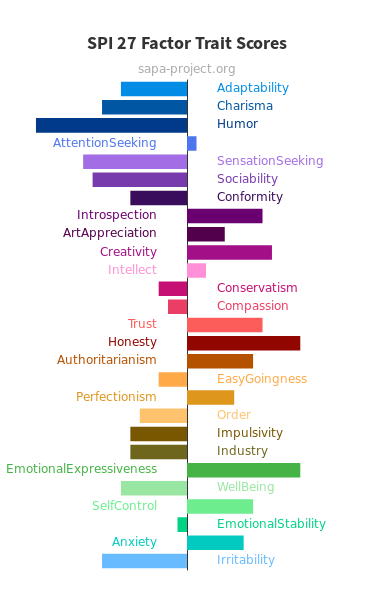 With respect to the big five personality traits, my percentile ranks according to the test are: 16 for Extraversion, 66 for Openness, 42 for Conscientiousness, 54 for Neuroticism, and 50 for Agreeableness. It seems I do not fit in any of the four personality types identified in the paper A robust data-driven approach identifies four personality types across four large data sets. I also scored 99 on cognition, but that was only based on eight questions, and consisted of some tests that I have done many times and are known to be good at. There were also no time constraints and I took time to figure out the answers.
---
Group generation
This evening, I finished a first version of my program for generating the elments of a mathematical group from a generation expression. I have tested this on some of the generation expressions given on Small finite groups and Cayley tables. It seems that the algorithm works for most of them. With some of the generation expressions, the algorithm found shorter identity sequences than the ones given in the generation expression. Maybe these generation expressions are incorrect.
---
Amsterdam
We visited Amsterdam today. We parked at the Olympic Statium and took the tram to the center. We had to change near Het Martyrium and went in to have a short look. We went to Rijksmuseum. We only saw a small part of the museum. The works I found worth mentioning are:

We walked along the cannals to the Dam Square, and from there to Booshop Scheltema. At At 16:23, I bought the following tow books:
---
Utrecht
With a visiting friend, I went to Utrecht. We first looked around at the travel bookshop Interglobe. Next we paid a short visit to Radio Centrum, an electronics shop that I visited for the first time around 1974. (The earliest record in my diary of a visit to the shop is of Saturday, March 27, 1976.) This is very probably the last visit, because they were having a closing down sale. I looked if I could find something interesting to build, but I could not decided on anything to buy. Next we went to Bookshop Broese. I did not buy any book, but my friend did. They were closing down their second hand books section. On our way to Dom Tower, we paid a short visit to the bookshop Steven Sterk. We went to visit the monastery garden, where there was (it seems) a reception for a wedding of two women. We also went inside the church were there we listened to the practice of Missa Assumpta est Maria by Marc-Antoine Charpentier. We also visited the The Oude Hortus. We saw the Sequoia Giganteum, the Ginkgo Biloba (one of the oldest outside of Japan), and the Victoria Amazonica.
---
Rijksmuseum Twenthe
With a visiting friend, I went to Rijksmuseum Twenthe. We first went to see the exhibition Lief en Leed (Joy and Sorrow), which is about family portraits from wealthy families from the 17th and 18th century that are not totally factual and often hide some sad truth. Next we went to see Bernard Heesen and the folly of the 19th century. We watched a short documentary about Heesen make one of his glass art works. This made me appreciate the exhibition much more than the last time I saw it. Next we also watched the other exhibitions. Of course, I saw Falaises près de Pourville from 1882 by Claude Monet.
---
Bits, bots and brains
This afternoon, I visited the exhibition Bits, bots and brains at Tetem art space with a visiting friend. I did like the music being played.
---
Sunday, September 9, 2018
Links
---
GOGBOT: Day 2
Again, I spend the afternoon and evening at GOGBOT, most of the time in the TkkrLab area. We used the laser-cutter, to cut a piano fractal puzzle. It turned out, that the 'piece' consisting of the space in between the pieces and the border, was most interesting. The found the space between the pieces a little too much. I also walked around for some time to look at all the other things. The things I found noteworthy are (in the order I saw them):

In the evening, there were some interesting experiments with throwing dry ice in a pan with molted sugar (with a temperature higher than 100°C).
---
First chestnut
Around 10:14, I saw pieces of the shell of a chestnut on the bicycle path. I stopped and found the chestnut that was inside it. I took it home and placed it in a pot in the garden and see what will happen. This afternoon and evening, I was with TkkrLab at GOGBOT. I wrote a program for the Hyperbrain Machine and walked around with it for some time, looking at the other projects. I used the questionair machine by Wiebe Audenaers about the Trolley problem with respect to AI. It printed a ticket with the result of my answers and a QR-code of a link to a website explaining it. in the evening, I also saw part of the robot pop-band Compressorhead that performed on the main stage.
---
HyperBrain Machine
This evening at TkkrLab, I worked on putting together my new HyperBrain Machine, consisting of an old pair of safety glasses, a NeoPixel LED strip and a NodeMCU. Martijn, another member made a wooden box for the NodeMCU module and he also helped me with repairing the NodeMCU. I wanted to feed the LED strip from the USB voltage, but the VIN pin has a diode, after we removed it and short circuit it, it turned out that the connection from the USB to the VIN pin was broken (probably burned out under the load of the LED strip). I soldered a thin wire to repair the connection. And then it did work with some program that came with the AdaFruit NeoPixel Arduino library. Now I still have to write my own program before Thursday evening when GOGBOT starts (or while I am there, because we have decided to just do our own things).
---
Book
At 10:39, I bought the book FastFurniture, Multiples and Other Productions written by P.J.H. Kockelkoren in English and Dutch, and published by Uitgeverij AKI/ArtEZ in January 2007, ISBN:9789073025103, from charity shop Het Goed for € 1.50.
Link
---
Fractal Jigsaw
Yesterday and today, I made a new version of the program for generating Fractal Jigsaw puzzles. I added the option -space, which allows you to specify the space between the pieces. Most DIY-laser cutters make a very narrow cut, which means that if you make a puzzle, the pieces will fit very tightly together. To avoid this, the idea is to make two cuts and throw away the material in between. For this, I had to write a new algorithm. The old algorithm (still used when no value or a non-positive value for -space is used) would generate lines from top to down. The new algorithm generate a cut for each piece. For this reason the algorithm needs to track the sides of the pieces. This method can also be used to cut the border by following the (in)side of the border. Because now these are cut one-by-one, all the corners will be round, and the shape of the pieces and border is a little different from the single line cut. I am thinking about adding the option -round to implement this same shape in the single cut algorithm.
Links
---
Tilburg
I went to TextielMuseum in Tilburg with Peter Struycken, who worked in the TextielLab from in the years 2002 to 2005, and in cooperation produced a number of wall carpets. We met with a number of people who knew him from that period. We also looked at the exhibitions Simply Scandinavian | Nordic Design 1945 -2018 and Colour & Abstraction | Generations in Dialogue at the museum. The last exhibition also included the carpet Boulez - 22 - 30 mei 04 - 06 maart 05 - 03 by Peter Struycken and also sample with all different colours that he created to test out the possibilities. Left of the wallcarpet is the work Abstract Browsing 17 08 10X by Rafaël Rozendaal. We also met with him, because we was creating colour samples on one of the weaving machines in the Lab. He too has made the transition from computer generated images to wall carpets. Peter and I also liked the wall carpets by Reinoud van Vught. Although they are less colourful than the works by Peter, they are similar with respect to patterns.

Afterwards, we went to De Pont Museum of Contemporary Art, which is only ten minutes walking from TextielMuseum. I liked the works by:
---
Book
At 10:23, I bought the book Verzameld Werk: Examen 2005 / Collected Work: Graduation 2005 written by Hans van Kooten (and others) in Dutch and English, and published by Hogeschool voor de Kunsten Utrecht in 2005 from charity shop Het Goed for € 2.50. In the beginning of 1981, I thought about writing a program to generate the elements of a (mathematical) group using it basic identity rules. I wrote whole sheets full with expression, but could not find an easy algorithm. This evening, I realized that this can be done with the rule that if XY=W and YZ=V than XV=WZ. One way to prove this is to append Z to XY=W resulting in XYZ=WZ and then replace the occurence of YZ in the left-hand by V, resulting in XV=WZ.
---
Book
At 9:45, I bought the book De Stijl - 100 jaar inspiratie: de Nieuwe Beelding en de internationale kunst 1917-2017 written by Anton Anthonissen and Evert van Straaten in Dutch and published by Waanders Uitgevers in 2016, ISBN:9789462620858, from charity shop Het Goed for € 9.95.
---
Diaries
September 2018
August 2018
July 2018
June 2018
May 2018
April 2018
2018
2017
2016
Alzheimer's Disease
Trip to China 2010
-- contact -- Frans
Li-Xia
Annabel
Andy
Honeymoon
Others
Pictures
Books
Maps
Bookshelves
Art works
Computers
Cameras
Trips
Flights
Weddings
Funerals
Reading
Movies
Useless lists
My life as a hacker
Signature programs
Software enginering
The Art of Programming
HTML to LaTeX
JavaScript
eXtreme Programming Programs Hamilton cycles
cutting sticks
Califlower fractal
more...

---
Earthquakes
Graphs
Tremors
Helirecorders
Volcano Blog
---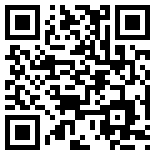 The email address below, may only be used for private communications. This email address may not be put on any mailing list. I do not want to receive emails with advertisements of any kind. My email address is:
Privacy statement
This is a static website with no contact form and no way to add comments. It has no advertisements and no trackers. It does not use cookies. I am not using any method to analyse traffic to this website nor keeping any logs. I am not collecting personal data besides what is published on this website. If you want me to remove any personal data (including your name or link to your website), please contact me by above email address and I will make all effort to remove the data as soon as possible. I am private person and this website does not serve any economic purpose. All cost for maintenance are paid by myself. If I did not count wrong, this site consists of 953 HTML-files with a total size of 22,111,847 characters, having 46,309 internal links and 10,416 external links to (more than) 3,507 websites. (At least 731 of the external links are broken.) Furthermore, it contains 204 C/C++ program files with a total size of 4,634,844 characters, and 3 PASCAL program files with a total size of 35,259 characters. There are 73 text files with a total size of 774,699 characters. With respect to images, this site containts 1236 JPEG images (total size 53,947,098 bytes), 146 GIF images (total size 3,765,046 bytes), 91 PNG images (total size 2,176,493 bytes), and 2 BMP images (total size 3,727 bytes). With respect to sounds, it contains 14 WAV files with a total size of 389,002 bytes and 1 MP3 files with a total size of 70,182 bytes. It also contains 43 PostScript files (total size 308,387 bytes), 2 LaTeX files (total size 132,020 characters), 8 PDF files (total size 640,573 characters), 22 zip files (total size 2,487,335 bytes), 3 gzipped tar files (total size 52,345 bytes), 45 SGF files with a total size of 85,019 bytes, 103 KML files with a total size of 4,332,209 bytes, and 2 EXE files with a total size of 38,340 bytes. It also uses 15 JavaScript files with a total size of 645,678 bytes, This leads to a total size of 100,003,845 bytes.
Copyright
I, Frans hold the copyrights of this and all other pages on this website. For this website a Creative Commons License is applicable. You may not use this work for commercial purposes. I consider all computer programs to be copyrighted by me under the GNU General Public License, unless stated explicitly otherwise. All quotes (text and program fragments) from other sources are excluded from this, and should be considered as copyrighted by their authors.