Official reports of the voting
Yesterday, I discovered that the official reports about
last Wednesday
voting are available. A copy of the official report for polling station 673 (in Enschede) is the PDF:
0153_Stembureau_673_Ravenhorsthoek34_PS23.pdf
. I compared the number with the number I noted down last Wednesday and I found no differences, except that I noted down a 20th party with zero votes while there were only 19 parties. I also downloaded the
EML
file with the counts. Yesterday, I spend some time to write a program based on
IParse
using the unparse function, but that did not work out very well. This evening, I spend writing a program (using some files from IParse) to read the EML file, which is in the XML format, into a more readable format. I also compared the numbers for polling station 673 in the output with those in the official report and I found no differences.
---
Drents Museum
Conny
and I went to
Drents Museum
. We first visited the
exhibitions
Dying in beauty: The world of Pompeii and Herculaneum
. I found the following works or objects noteworthy:
Fountain depicting the Hydra of Lerna
Wall painting with theatrical sets and mask
Portrait of the poet Menander
Head of an Amazon
Bakers couple
Martime Landscape
Apollo
Scene with a faun and Hermaphrodite
Erotic scene
Dionysus and Pan
Wall painting with theatrical sets and mask
Table leg with Egyptian sphinx
Silver cups with images of the goddess Isis
Venus Anadyomene (Venus Rising from the Sea) from the Temple of Isis
Statue if a young Alexander the Great
Bust of the god Apollo
Plaque commemorating the poet Aulo Flacco
Statue of Egyptian goddess
Skyphos (ritual drinking cup)
Fountain head with Silenus
Statue of a hunting scene
Fresco with Nile scene
Mosaic with Nile scene
Mosaic with Nile scene
Statue of a dolphin
Oscillum with dancing satyr
Oscillum with dancing menades
Phallus (probably originally part of a statue)
Statue of Jupiter
Safe
Relief with Silenus and Pan
Relief with Silenus and Satyr
We were a bit disappointed about this quality of this exhibition. I felt that it lacked a lot of technical information. For example, there was some blue
glass
in the exhibition and we wondered why it was blue.
Next we saw the exhibition Wegzehr with works by Neo Rauch. I found the following works noteworthy:
Die Wegzehr, 2015.
Wehr, 2018.
Stellwerk II, 2015.
Die Erwartung, 2017.
Frei, 2021.
Das Kollegium, 2019.
Somon, 2021.
Das Xylophon, 2018.
Der Stammbaun, 2017.
Trost, 2021.
Der Sinnende (für Rosa), 2021.
Hüter, 2017.
Brillo, 2018.
Rückenbrand, 2020.
Der Züchter, 2016.
Ratlos, 2017.
Die Strenge, 2012.
Der Löwe, 2013.
It was rather busy at the museum.
Later,
Conny
and I went to
CODA Musuem
, a
museum in Apeldoorn
. There we first saw
the exhibition
Behind the Screens
. The works (almost all of them, I think) in the order I noted them down:
Mutant Garden Autobreeder, Harm van den Dorpel, 2021.
Untitled, Vera Molnár, 1986.
Inclinaisons, Vera Molnár, 1971.
Untitled, Herbert W. Franke, 1971.
Rumeurs espiègles, bleus, Jean-Pierre Hébert, 1988.
P-065a, Manfred Mohr.
16.3.65 Nr.8 2/2, Frieder Nake, 1965.
Pearl Park Scripture-EE, Apache, Roman Verosiko, 2005.
GeoGoo_Glcon, JODI (Joan Heemskerk and Dirk Peasmans), 2015.
King, Harold Cohen, 1964.
Tears of Hermes(m), Dennis Rudolph, 2021.
Colorwheel, Tabor Robak, 2017.
The First Digital Artist - Harold Cohen and his AARON, Bilder Rausch, 2021.
alpha-alumina ..., Petra Cortright, 2022.
fleurs d'oranger d'arabie, Petra Cortright, 2022.
NFT's in slideshow, 2021-2022.
Boulez-26_Entoptic Perception_2004, Peter Struycken, 2004-2005.
POF 19D, Peter Struycken, 1986.
PVA Composition (USA flag), Constant Dullaart, 2016.
Sometimes red, sometimes blue, Damon Zucconi, 2007.
yes no if.com, Rafaël Rozendaal, 2014, code by Reinier Feijen.
Secondary Colors, Peter Luining, 2004.
Secondary Colors, Peter Luining, 2004.
Secondary Colors, Peter Luining, 2004.
Jennifer in Paradise, Constant Dullaart, 2017.
/roʊˈdeɪoʊ/ Let's Play: HOLLYWOOD, Cory Arcangel, 2021.
Walldrawing #621 (ontwerp I), Sol LeWitt, 1987.
Walldrawing #621 (ontwerp II), Sol LeWitt, 1987.
Untitled (Five Geometric Figures in Five Colors), Sol LeWitt, 1986.
Hissed Hyphen Flicks, Harm van de Dorpel, 2021.
Table Border, Jan Robert Leegte, 2017.
Summer, Olia Lialina, 2013.
Doors 61, Rafaël Rozendaal, 2022.
Doors 33, Rafaël Rozendaal, 2022.
Internet cache Self-portrait, Evan Roth, 2021.
KD 53 (from the series Artificial Mondriaan), Hiroshi Kawano, 1969.
KD 5 (from the series Artificial Mondriaan), Hiroshi Kawano, 1969.
Abstract Browsing 16 10 03 (IKEA), Rafaël Rozendaal, 2016.
How to turn code into Art, Aram Bartholl, 2011.
Macabre, Özgür Kar, 2021.
Untitled (21-19-02), Jonas Lund, 2021.
Strand 67, Evan Roth, 2021.
Strand 163, Evan Roth, 2021.
Slot Machine, Jan Robert Leegte, 2010.
PROH E CY, Carl Andre, 1962.
w, Carl Andre, 1959.
Wwwww... cccc..., Carl Andre, 1959.
Laser Cyanotype #01, Ralf Jacobs, 2022.
Laser Cyanotype #02, Ralf Jacobs, 2022.
Laser Cyanotype #03, Ralf Jacobs, 2022.
Live laser harmonogram, Ralf Jacobs, 2022.
plot, Saskia Freeke, 2022.
ABSTRACTION(), Timo Hoogland, 2022.
(The last six are also part of the exhibition
Coderen: ambacht van de 21e eeuw
, I understand.)
At the De Van Reekum Galerij the following works by Peter ten Lohuis were on display:
Maya X, Peter ten Lohuis, 2022.
Maya XI, Peter ten Lohuis, 2022.
Maya XII, Peter ten Lohuis, 2022.
Maya XIV, Peter ten Lohuis, 2022.
Form the exhibition 005 Apeldoorn Art, I found the following works noteworthy:
Heimwee, Anneke Eggermont-Smit, 2022.
Untitled, Wilma Stegeman, 2022.
Vrouw met muts, Ingrid Scholte, 2021.
In the eyes of a child, Mario van Eeren, 2022.
BuitensteBinnen, Wouter Bloemendaal, 2022.
Some of you don't understand, Loes Huis in 't Veld, 2021.
Emma, Angela Stouten, 2021.
Flying objects in the red zone, Ad Werkhoven, 2022.
Compositie in geel, Doortje de Vries, 2022.
Step by Step, Geertje A. Goede, 2022.
Boswandeling, Rob Weddepohl, 2022.
Untitled, Fred Anvelink, 2022.
Huidhonger, Karin Schoonewelle, 2021.
Ciotola di spaghetti con occhio, Ton van de Kraats, 2022.
From the series Schamabala, Boukje Veltman, 2021.
Natuurlijk, Anne-Marie Idema.
La Belle vie II, Pieter Manintveld, 2021.
Candy Bar 1, Sybren Rodenhuis, 2022.
---
Counting ballots
Today, we had
provincial
and
water boards elections
. Tonight I went to watch the casting of the votes at polling station 673. I arrived at the polling station at 8:56 pm. At 21:00 counting according to the CRAFT Counting method started with the turning over of the container with the ballot papers for the water authority elections. They were divided by the people at the polling station on even and odd party numbers. At 21:17 they were done with that.
At 21:18 they did the same with the ballots for the provincial councils.
At 21:35 they finished and distributed ballots per party. This was done at two long tables with someone standing in the middle with the bills, which were then placed on piles of left and right by two helpers. Parties with many votes (e.g. lists 7 and 13) were moved closer.
At 21:57 they were done with that. The ballot papers for each party were then counted by two different people. Once from the left side of the note and once from the right side. Equal numbers were found for all parties.
At 22:12 they were finished and the provisional result was determined. The result was: list 1: 23 votes, list 2: 23 votes, list 3: 37 votes, list 4: 35 votes, list 5: 42 votes, list 6: 39 votes, list 7: 49 votes, list 8: 28 votes, list 9: 13 votes, list 10: 9 votes, list 11: 6 votes, list 12: 22 votes, list 13: 87 votes, list 14: 9 votes, list 15: 22 votes, list 16: 6 votes, list 17: 13 votes, list 18: 14 votes, list 19: 2 votes and list 20: 0 votes. That makes 479 valid votes. With a blank vote and an invalid ballot paper (with all the boxes of a party colored) the total came to 481, which corresponds to the number of voting passes submitted. Three people from the municipality also came by to see how the counting of the votes was going.
At 22:20 this was finished and the number of votes per candidate were then counted. This was done with forms on which the number of votes per candidate was tallied. One person always read the numbers of the candidates and the other did the tallying.
Subsequently, the distribution of the ballot papers for the water authority elections among the parties was started while someone was busy transferring the numbers on the completed forms to the official report. Around 22:57 the distribution of the ballot papers over the parties was finished.
The votes for each party were then counted. Someone found one ballot that was in the wrong pile. It also turned out that the number of the second count did not match the first and the banknotes for this batch were counted for the third time by a third person. That number was found to correspond with the second censuses. All this was noted on the forms and the total number of ballots (including nine blank ballots and one invalid ballot) were added together and the number matched the number of ballots received. With finished this around 23:21.
Finally, the candidates were counted. This had to be done twice for two batches, because the number of ticks did not match the previously determined number of notes per batch. This was correct in both recounts of the candidates. In one of these recounts I counted the number of votes for the first candidate and that turned out to be correct with the number of tally on the form.
At 23:55 the counting was completed and the counts were transferred to the official report. Then all ballots and completed forms were placed in sealed bags and envelopes in one of the containers used for collecting the ballots. I didn't wait for these containers to be picked up to take them to the collection point where all ballots will be counted again tomorrow.
---
Monday, March 13, 2023
Link
---
More Dune reaction videos
During the past week, I watched some more reaction videos to
Dune 2021
film. On Wednesday, I watched:
On Thursday, I watched:
On Friday, I watched:
Yesterday, I watched:
Today, I watched:
---
Snow
It has been raining almost the whole day. But around four in the afternoon, the rain slowly changed into
snow
. When I biked home, around half past five, the snow started to accumulated at more and more places, even at the streets, where it usually is the last place where it stays. I guess about 1cm of snow fell. During the evening, some of the snow melted again. In the past two days we had some wet snow.
---
Thursday, March 9, 2023
Link
---
Wet snow
This afternoon, when
Conny
and I went for a walk, it started to
snow
. Actually, it was more something in the middle of light hail and wet snow. At some point it did stay at the ground at some spots. I felt that most of it had disappeared when we arrived at home. Later in the afternoon, I saw some more white stuff falling from the sky. There are some forcasts for some considerable amount of snow, but it is mostly in the southern part of the country and it seems that we are just at the border of it.
I came across the article
The EU's new Cyber Resilience Act is about to tell us how to code
. I understand that this act goes covers a lot of software. I wonder to which extend this could also involve softare that I have developed both professionally and
privately
.
---
More Dune reaction videos
I watched some more reaction videos to
Dune 2021
film. Yesterday, I watched:
This evening, I watched:
---
Into the city
I went biking to the city center. I walked to
Fotogalerie Objektief
where I saw
the exhibition
Mensenleven
(Dutch for 'people and life' or 'peoples lives') with photographs by
Marty van Dijken
. Next, I walked to Concordia where I saw the exhibition
Doublet #3: Heike Gallmeier en Roos van Haaften
. I liked the light installations by
Roos van Haaften
. I also spend some time at
Bookshop Broekhuis
, but I did not buy anything.
---
Estates of Twickel foundation
In the afternoon,
Conny
and I visited the Twickel park again. There I bought
a map
of the estates of
Twickel foundation
. The foundation owns about 57.79 square kilometers of estates in various locations in the Netherlands and just across the border in Germany. The largest part of it being around the city of
Delden
. The foundation is the 14the largest land owner in the Netherlands according to
this Dutch overview
on the website of the Volkskrant newspaper. Although there are foundations with more land, it looks like it is the largest foundation coming from a single private land owner. We walked around the park for over an hour.
---
Jupiter and Venus
In the evening,
Conny
and I went outside to take pictures of the Jupiter Venus conjecture. I used a tripod and shutter delay to take the pictures. The camera used a shutter time of about five sevonds. I had to make the lighting about 2 stops darker for the best result. One of my pictures is shown below: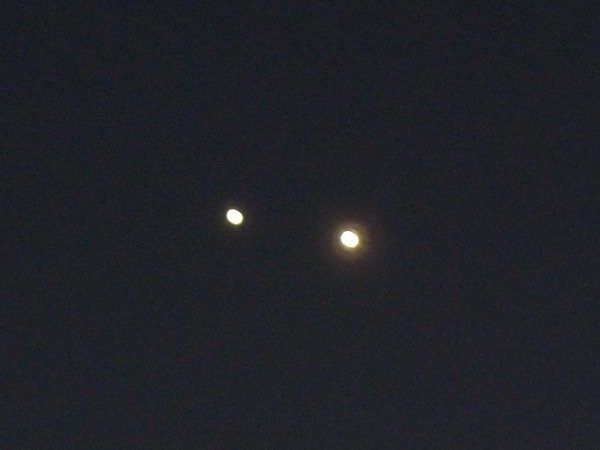 ---
Dune reaction videos
I watched a lot of reaction videos to the Dune (2021) movie. Interesting to see how people response to the different scenes and how much they understand of it. I watched the following reaction videos:
---
Friday, February 24, 2023
Link
pages 252 and 253 of Technology of textile design. A practical treatise on the construction and application of weaves for all textile fabrics
---
Election fraud
There is a political party in the Netherlands that is doing badly in the polls who now say that if they lose it will be because of electoral fraud. In the Netherlands voting is done on paper. For some time we did have electronic voting machines, but they were abolished on the basis that there is a theoretical possibility for eavesdropping. At the end of the voting day, all the votes are publically counted at the polling station. They always count all the votes for each party and optionally can also count the votes for each candidates. An official report is made of the count. Then the next day, all the voting forms and the reports are collected at the townhall and checked again. If the votes per candidate were not counted, they are counted. If there is any doubt about the correctness, the voring forms are counted again. Any one, can raise objections against the counts and voting commision has to deal with them. Again this is all done in public. The counts per polling station are published per party. The counts are entered into a database and summed to arrive, about a week later, the final outcome of the voting. All the counts, down to the level of the number of votes for each candidate in each polling station are published and can be downloaded for verification. For the last national voting, from 2021, they can be downloaded here:
Verkiezingsuitslag Tweede Kamer 2021
. They are in
the Election Markup Language
. The software that is used from adding all votes up and producing the above data files, is called OSV2020. More information about this program, including links to the source code, can be found at the page
Eisen, specificaties en toetsingsrapporten Ondersteunende Software Verkiezingen 2020 (OSV2020)
. The GitHub repository
sj/ondersteunende-software-verkiezingen
contains the version of the software from 2018 and some modifications to attempt to run it because it was missing some of the dependencies. I do not know if the current version that can be downloaded does have information about the dependencies and can be build into an executable version.
It was
Sunday, March 12, 2016
, that AlphaGo beated Lee Sedol at playing
Go
. Later, deepmind developed
AlphaZero
an even stronger AI. This effort was also repeated by
Leela Zero
and
KataGo
, which is currently one of the strongest Go playing AIs that is freely available. But accoring to
Adversarial Policies Beat Superhuman Go AIs
a strategy has been found to beat these two AIs by a strong amateur player. Now it looks like this shows that Go AIs do not have the 'deep understanding' of Go as they were thought to have. It seems that many amateurs Go players can learn the tricks to exploit these weaknesses. In some sense it is more sensational than Lee Sedol beating AlphaGo, because it shows that Go is not yet beaten by AI and that this is only the true start of the battle between humans and AI with respect to Go. On Hacker News,
Adam Gleave
, on of the authors of
the paper
,
mentions
that the creator of KataGo already has started a training run with the strategy and succeeded to tipple the balance in the other direction. But as Gleave mentions, it is still not clear if KataGo just learned an easy trick to defend against the strategy or now has achieved a real deep understanding of the game. The search for new weaknesses will probably continue for some time.
Link
---
TARt-festivals
I have been reading in some of my old diaries during the time that I studied and worked at the University of Twente. I found something about the TARt-festival, which was held several times during that period. I found that the university weekly paper can be searched
online
. In the edition from March 27, 1986 I found an annoucment on
page 4
for the exhibition in 1986. The edition of May 14, 1987 has some articles on
page 3
about the
TARt-festival
on May 21-23, 1986. One of the articles mentions Peter Geerts who created kinetic sound objects. I remember having seen some of these kinetic sound objects in several exhibitions at the university. In the edition from May 27, 1987 there is some mentioning of it on
the front page
(which mentions the 'Time' performance by Joep Neefjes, which I attended),
page 7
, and
page 16
.
The front page
of the edition of March 3, 1988 mentions the
IJsprisma
by
Aris de Bakker
being on display at the Rijksmusem Twente after the production of it failed from the TARt-festival. The edition of September 21, 1989 on
page 5
has an announcement for the TARt-festival that will be held on October 9-14, 1989. It mentions the artist Peter Haartsen and his probject "Roterende Monitoren" (rotating monitors). During the year, I came in contact with him and helped him with writing a program for a prototype consisting of one rotating television flanked by two static televisions. The rotation television was made with some parts from a washing machine. The software ran on an Atari ST. I wrote a program that read the position of the monitor (using a three or four bits
Gray code
encoding) and displayed a bouncing ball. The prototype was not shown on the exhibition. The edition of October 5, 1989, contains some articles on
page 5
. The edition of October 12, 1989 has some reports on
the front page
and
page 3
. On the last page, it mentions that there will be an exhibition after the festival about some of the art works and/or their construction. The edition of October, 1991, has an articke on
page 2
about the TARt-festival that will be held from October 4 till 9. I remember seeing
The Electric Swaying Orchestra
at the university.
---
Friday, February 10, 2023
Links
---
Ithaka
I saw the
Ithaka
documentary film on
Dutch television
about the
Julian Assange
. It gave me the eerie feeling that we here in Europe are not as free as we think we are and also the feeling that here journalist are prosecuted for revealing the truth. The film also has a fragment of
the inaguration address
of
Joe Biden
. But what is value of stating truth is one of the common objects that define America when you prosecute a foreign journalist for reporting about war crimes commited by American soldiers?
---
Book
At 17:36, I bought the following two books from
charity shop Het Goed
, both for € 1.50:
8e Nationale Fototentoonstelling georganiseerd door Foton written by Ger van den Berg in Dutch and published by Foton in 1985.
Berthold: een toelichting op her Berthold-zetsysteem edited by Jan Boterman, written in Dutch and published by Gaade uitgevers in 1987, ISBN:9789060177730. This book is about the Berthold Type Foundry.
---
Museum MORE
Conny
,
Annabel
, her boyfriend, and I, visited
Museum MORE
. (This was a present from Annabel and her boyfriend for my birthday last year.) There we saw
two exhibition
. We first watched the exhibition
Streetview
with photographs and
a short film
by
Bas Losekoot
. I saw the following pictures (in given order):
Karako, 2017
Sokak, 2017
Breadfruit Street, 2016
Rua Quinze de Novembro, 2012
Tinubu Street, 2016
Dr Dadabhai Naoroji Road, 2018
Chhatrapati Shivaji Maharaj Terminus, 2013
Oxford Street, 2015
Avenida Hidalgo, 2018
Masjid Bunder Road, 2013
7th Avenuo, 2011
Cheapside, 2015
Mansion House Street, 2014
Dakota, 2018
Ali Balogun Street, 2016
Avenida Brigadeiro Luís Antônio, 2012
Sundar Galli, 2013
Ramchandra Bhatt Marg, 2013
Dry Walk, 2014
Rua Libero Badaró, 2012
Trinity Place, 2012
Barclay Street, 2011
Wall Street, 2011
Mars Street, 2015
Brown Street, 2016
Sardar Vallabhbhai Road, 2013
Padmabai Thakkar Road, 2013
Canton Road, 2014
Queen's Road Central, 2014
Lombard Steet, 2015
Union square, 2011
Obalende Road, 2016
Toegye-ro, 2012
Fenchurch Avenue, 2014
Peking Road, 2014
West 51st Steet, 2011
Ojuelegba Road, 2016
Old Broad Steet, 2015
Bishopsgate, 2014
Next we watched the exhibition Realism From 1900 To Today with works from the collection of the museum. This exhibition was divided in a number of topics. The works I found notable, per topic are listed below.
Monochroom
View of Corte, Wim Schuhmacher, c. 1928.
Vallard Bell Glass, Rein Draijer, 1972.
Still life with Bread, Cheese and Butter, Sal Meijer, undated.
White Box Paintings nrs. 334, 339, 347, 392, Christiaan Kuitwaard, 2018.
Acceptance, Peter Leeuwen, 1975.
M.T. with a Pistol, Thom Puckey, 2008.
Subject of Construction, Dion Rosina. 2022.
Bram, Annemarie Busschers. 2008
The Dancer (Portrait of Elisabeth van de Vies-Szánto), Wim Schuhmacher, 1928.
Old Woman in an Italian Landscape, Wim Schuhmacher, 1926.
Self-Portrait, 2000 (no. 139), Philip Akkerman, 2000.
Self-Portrait, 1994 (no. 85), Philip Akkerman, 1994.
Six Erasers, Lode Pemmelaar, 1978.
Scrollbar, Jan Robert Leegte, 2002.
Double Package, Jan Beutener, 1982.
Window of the Isolation Ward of Amsterdam Houde of Petention, Siet Zuyderland, 1972.
Cubicles, Arnout Killian, 2011.
Realistic and Abstract
Still Life with Pink Background, Jan van Tongeren, 1976.
The Silver Wedding, Carel Willink, 1924.
Canal, Wim Oepts, 1932.
Port, Wim Bosma, 1930.
Amaryllis, Jan Wittenberg, 1931.
Of the Wonderwel Rose Bush, Rieks Milikowski-de Raat, 2013.
Rest, Sid El Karchi, 2006.
The Last Easel Painting, Rein Draijer, c.1968.
Coming from the Right, Jan Beutener, 1995-1996.
Scalene, Robin Speijer, 2021.
Dozing Pillow, Har Sanders, 1970.
Nostalgia
Extension, Hans op de Beeck, 2007.
Snowy Landscape, Johan Marius de Vries, 1925.
Skull, Edgar Fernhout, 1935.
Airship No.4, Hermanus Beiseruk, 1967.
Children at a Playground, Walter Nobbe, 1964.
Landschape with Seven Status, Carel Willink, 1941.
Fata Morgana, Arnout Killian, 2007.
Window, Lara de Moor, 2013.
Irene Portrait (from the series Grief), Erwin Olaf, 2007.
I don't want to be part of this. Talk me out of it, Guido van de Werve, 2005.
Row of Trees, Jan Mankes, 1915.
Large Owl on a Screen, Jan Mankes, 1913.
Ginger Jar with Heather, Jan Mankes, 1916.
Just like the real thing
Mister Police Officer, Annemarie Busschers, 2007.
Dad, Annemarie Busschers, 2006.
Ineke, Annemarie Busschers, 2007.
Tiergarten, Berling, June 7, 1998A, Rineke Dijkstra, 1998.
Zilvitis, Lithuania, July 28, 2000, Rineke Dijkstra, 2000.
Barbara (from the series Grief), Erwin Olaf, 2007.
Willem III, Theo L'Herminez, 1982.
Study in Green #2, Ruud van Empel, 2003.
Still life with Cheese and Eggs, Henk Helmantel, 1987.
Cardigan, Lynne Leegte, 2022.
Still Life with Quinces, Henk Helmantel, 2012.
Mirage LH, Lieve Hendrisk, 2020.
Prop Table (after El Greco), Lara de Moor, 2018.
City Square, Carel Willink, 1958.
Uneasy Reality
Fall of Light 2, Pat Andrea, 2003.
The Little Flutton 2, Herman Berserik, 1979-2001.
To the Future, Carel Willink, 1965.
The Resting Sleep Walker IV, Pyke Koch, 1971.
The Cover-Up, Marlene Dumas, 1994.
The Show Must Go On, Marlene Dumas, 1988-1991.
Andrew & Anubus, Silvia B., 2008.
Mouth Open, Kiki Lamers, 2001.
Wild Thing, Kiki Lamers, 1999.
Pietà, Joyce Overheul, 2022.
Snake, Joyce Overheul, 2022.
Outside the UN-base, Peter Koole, 2021-2022.
The Sky Or The Bus, Peter Koole, 2015-2016.
Mothers Matter, Barbara Philipp, 2017.
I Told You So!, Barbara Philipp, 2021.
Unmasked, Barbara Philipp, 2020.
Skin and Hair
Totem for Mankind #3, Margariet van Breevoort, 2021.
Portrait of Hermann Markard, Piet van de Boog, 2007.
Chicken Pox, Annemarie Busschers, 2005.
Landscape IV, Levi van Veluw, 2008.
Landscape III, Levi van Veluw, 2008.
Bust I, Arnout Killian, 2004.
Out of Order, Jan Beutener, 1982.
Annemarie, Annemarie Busscgers, 2008.
Perspective, Michael Raedecker, 1998.
The Hare, Raoul Hynches, 1946.
Suspense
His Unexpected Return, Tobias Schalken, 2002.
Storm Damage with Balustrade, Arnout Killian, 2012.
After Virtue, Jan Worst, 2008.
Victoria (from the series Grief), Erwin Olaf, 2007.
Vessel, Lara de Moor, 2015.
Field Hospital, Mark Outjes, 2005-2005.
The Zeppelin, Carel Willink, 1933.
High Tide, Joop Moesman, 1935.
Souvenir d'un songe II (memory of a dream II), Pike Koch, 1977.
War, Pat Andrea, 1978-1981.
Presidential Assassination, Pat Andrea, 1964-1966.
Le Petit Monde, Silvia B., 2008.
Moving Nightscape VII, Raquel Maulwurf, 2016.
Eclipse, Lotta de Beus, 2008.
Truth or Dare (from the series For Better, For Worse), Lotta de Beus, 2008.
The Generous Friend, Jan Worst, 2006.
Representative?
Man Turning his Head, Axel van der Kraam, 1978.
Agnes, Herman Gordijn, 1976.
Untitled (self-portrait of head and full-length) Dyptich, Lidwien van de Ven, 1989.
Self-Portrait, 1986 (no. 35), Philip Akkerman, 1986.
Self-Portrait, Marnixbad, June 19, 1991, Rineke Dijkstra, 2001.
The Signal, Pyke Koch, 1975.
Self-Portrait with Fur Collar, Charley Toorop, 1940.
Self-Portrait, Jan Mankes, 1915.
Portrait of the Artist's Wife (Johanna Maria Drayton Lee), Ward Hellendoorn, 1936.
Portrait of Mrs. N.F. van Gelder-Schrijve and both her Children, Charley Toorop, 1935.
All Purpose Smile, Esiri Erheriene-Essi, 2017.
Woman, Ina van Zyl, 2018.
Symmetry, Jan Beutener, 1987.
Chair #1, Arjan van Helmond, 2010.
Linda, Sara Blokland, 2006.
Untitled, Katinka Lampe, 2007.
Woman with White turban, Mary Waters, 2008.
Portrait of Helene Cornelia Therese (Lenny) de Graan, Gé Röling, c.1941.
Transvestisme in a Public Toilet, Fer Hakkaart, 1975-1980.
At 15:20, I bought the book Philip Akkerman Kunstenaarsdagboek written by Philip Akkerman in Dutch and published by Nai010 Publishers on Friday, October 9, 2020, ISBN:9789462086098, for € 19.95. Conny bought a Pigma Micron fileniners set | 3 pens, 0.3 mm + 0.4 mm + 0.5 mm, black for me.
Afterwards, we went walking in the Marke Gosselse Heide, an area with heather. We walked around the heather area for about 4.7Km. Next we drove to a parking area near Deventer opposite of the river IJssel and took the ferry across the river and walked to Indian restaurant. I has: Dal Soup, Shabji Kabab (as a starter), Bhuma Curry special, Dall Tarka Mushroom Massala, Pillaw rice, Mixed Salad, with Nan bread (as the main dish), and some icecream (as dessert). The others had similar dishes. The food was nice, but we had to wait a long time for the main dish.
---
Friday, February 3, 2023
Link
---
Monday, January 30, 2023
Link
---
Dune 2021 film
In the past weeks, I spend some time working on
my page
about
Dune 2021 film
where I compare the transcript with the book, a script and the screenplay. For this I watched most of the film and attempted to count the number of
shots
in every scene. It was interesting to watch it in such a detailed way, because it made me aware of the sometimes subtle symbolism of certain shots. The most obvious being the various shots of the ox. Another example is the shot of Paul closing his fist with the ducal ring inside followed by a shot of the open hand of Leto hanging down.
---
Friday, January 27, 2023
Link
---
Museum No Hero
Conny
and I went to
Museum No Hero
where we saw two
exhibitions
. First we saw the exibition
Oog in Oog met de Wereld
(
Eye to Eye with the World
). The works that I found noteworthy (all of them, if I am not mistaken):
Children's serie no. 1, JinGuo, 2006.
Children's serie no. 2, JinGuo, 2006.
Children's serie no. 3, JinGuo, 2006.
Kleine Joe, Burkhard Held, 2005.
Change the perspective #4, Lita Cabellut, 2012.
Without title, Zhao Nengzhi, 2008.
Without title, Xiao Ping, 2007
Don't forget about me, Wang Chengun.
Police series no. 63, Yang Shaobin, 1996.
Sherbert ici, Nicky Hoberman, 1998.
Kind met sproetjes, Kiki Lamers, 2007
The Sisters (The big family no. 7), Zhang Xiaogang, 1996.
We take care, Liu Yu Jun, 2004.
Conversation, Li Songsong, 2008.
Yesim, Céline van Balen, 1998.
Figen, Céline van Balen, 1998.
Beast of burden, Jitish Kallat, 1998.
Universal recipient, Jitish Kallat, 2008.
Kenia, Rainer Fetting, 1987
Without title, Armand Boua.
Yoko XVIII, Don Brown, 2006.
1216227, Katinka Lampe, 2022.
Girl with rose flower, Rom Isicke, 2019.
Masquerada, Svetlana Tartakovska, 2000.
Cry, Tu Feng, 2005
Citronella-lemoncouloured Tokyo Beauty Privacy Love, Elke Krystufek, 2000.
Lena, Cornelia Schlieme.
Braut, Wermer Liebmann, 2020.
Nabb nut nacktem Oberkörper, Stephen Balkenhof, 1996.
From the exhibition
Verzamelen is kleur bekenen. De wilde collectie van Geert Steinmeijer
(
Collecting is showing your true colours. The wild collection of Geert Steinmeijer
), I found the following works noteworthy.
Selbst-Velasques, Raimer Fetting. 1996
Liegender Akt, Luciano Castelli, 1982.
Sumo, Rot, Salomé, 1982.
Schneefall unter den Linden, Raimer Fetting, 1987.
Madonna mit kind, Elvira Bach, 1995.
Der kuse IV, Raimer Fetting, 1981.
Telefon zelle, Karl Horst Hödicke, 1982.
Schlangenbeschwörerin, Flauto, Karl Horst Hödicke, 1983.
Desmond-Phone call I, Raimer Fetting, 1984.
Without title, (from the series Red and black, 1983), Salomé, 1983.
Zinderend zomerlandschap met vee bij een sloot, Willem Maris, 1885.
Bomschuiten op het Scheveningse strand in de winter, Hendrik Willem Mesdag, 1874.
Molen bij avond, Paul Gabriël, 1889.
Bomschuiten in de brekers, Hendrik Willem Mesdag, ca. 1892.
Venus van de Grotticelli, Naar Giambologna, ca. 1895.
Le pont de Bezons, Johan Conrad Greive, 1867.
Landweg, Guiseppe da Volpedo, 1890.
A village road in Szolnok, Tina Blau, end 19th century.
La fille d'Erve, Albert Pénot, 1905.
Een jonge Italiaanse schoonheid met vlinders, Jacob Maris, 1868.
A young boy eating a watermelon, Vincenzo Irolli, ca. 1900.
Liggende oriëntaalse danseres, Dante Zoi, ca. 1900.
The Landing, Raoul du Gardier, ca. 1920.
WLID, Frank Stella, 1967.
Without title, Peter Schuyff, 1987.
Zig-zag stoel, Gerrit Rietveld, 1932.
Without title, Willem Hussem, 1963.
Without title, Willem Hussem, 1953.
Constructie WXI, Joost Baljeu, 1960.
Synthetische constructie WXXI 4c, Joost Baljeu, 1960/1969.
Third riddle, Mary Weatherford, 1991.
Rode en blauwe stoel, gemaakt door Cassina, Gerrit Rietveld, 1923.
Without title, Edward Corbett, 1962.
Richoux/Gordan, John Armleder, 2013.
AHE. 874, Al Held, ca. 1985.
Without title, Gene Davis, 1956 .
Pouf Ruban, Maria Pergay, 2007.
Page d'un livre de Daniël, Get Lataster, 1960.
Fille en pleurs, Karel Appel, 1953.
Lichte nacht, Edgar Fernhout, 1971.
Pitful man, Joep van Lieshout, 2002.
Reclining Nude, Karel Appel, 1989.
Reliëf structuur no. 146-2, Erwerdt Hilgeman, 1970.s
Schaakbord, Jacobus van de Heyden, 1962.
Without title, Nguyen Trung, 2008.
Festival, Do Xuan Doan, 2006.
Royal lady, Bui Huu Hung, 2007.
Royal Family, Bui Huu Hung, 2007.
Royal Princess Green, Bui Huu Hung, 2007.
Spring, Do Xuan Doan, 1996.
Growing rice, Tran Dinh Tho, 1994.
Love, Dang Xuan Hoa, 2015.
Out Life, Dang Xuan Hoa, 2019.
Family Day, Do Xuan Doan.
Village Workers, Do Xuan Doan.
stoel 'SF 103 Triënnale', Michael Mortier, 1960.
The faun, Raoul du Gardier, ca. 1920.
Afterwards, we walked towards Twickel Castle and around the area. The castle now belongs to a foundation that owns large areas of land around the city Delden.
---
Fairy ring
I found a
fairy ring
in the back garden of our
house
. It is actually inside an old doormat.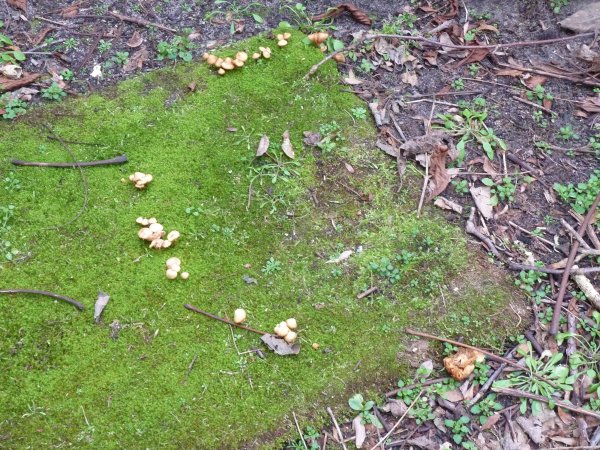 Links
---
愉快的春节
Today is the first day of the year 4720, the year of the rabbit according to the
Chinese
calendar. The spring festival has begun.
When we went walking this afternoon, there were some speck of
snow
falling from the sky, non of which stayed on the ground. On Friday, there was some substantial snow in the Southern parts of the country but nothing in our part of the country.
In the past weeks, I continued working on the program for find substitution patterns for
irregular grids of squares and equilateral triangles
. Below it shows 53 of the 15407 patterns with a boundary length of 27 that the program found, starting with the pattern with the smallest area. As can be seen, many of these patterns can be split in more than one smaller pattern. I have wondered whether I should exclude these combinations in the counts, but it should be noted that there are restriction on how substiturion patterns can touch each other. The program does check if the outside of the boundary can be filled with squares and triangles. It does this by checking if the coves can be filled. The count of substitution patterns per length of the boundary, starting with a length of 12, is: 1, 0, 1, 1, 4, 3, 12, 15, 44, 75, 200, 411, 1070, 2420, 6304, 15407, 40569. I have not found this sequence in
The On-Line Encyclopedia of Integer Sequences®
.
---
Underneath the wings of a butterfly
This afternoon, I visited
the exhibition
Underneath the wings of a butterfly
at
TETEM art space
. I only saw the
augmented reality
part of the exhibition where you had to walk around the room with a tablet to which headphone were attached. You had to follow a butterfly. Interesting concept. There were a lot of flat photographs in the scenery. I did not wait for the virtual reality part of the exhibition.
---